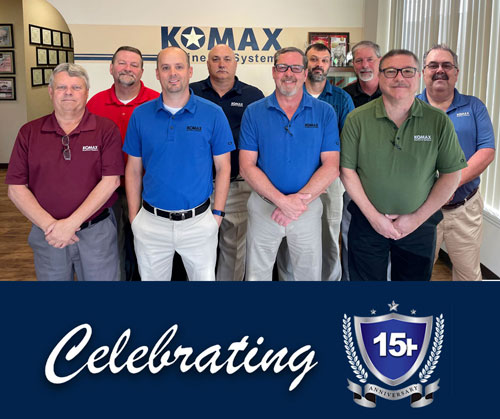 Technicians
When your equipment needs attention, who do you call? The amazing tech team at KOMAX! We are so fortunate to have so many great technicians that have been with KOMAX for 15+ years, many of them since the doors opened 23 years ago. They know the machines inside and out. And our customers rely on them for their knowledge and professionalism. Thank you all for you dedication and service. (Front row left to right: Larry Brode, Ryan Casebolt, Dave Cox, Dave McCoy Back row: Jason McCoy, Tony Baker, Seth Lewis, Dave Erbentraut, Mark Lloyd)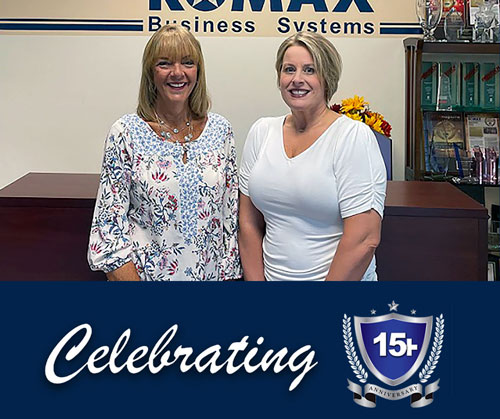 Administration
KOMAX would like to take a minute and recognize our extraordinary administration team that have been with the company 15+ years! Kim Sykes and Vanessa Martin remain on the front line of our organization. They work tirelessly to take care of our customer's needs – and always with a smile on their face. They make it happen every single day! We salute you for your hard work and dedication to KOMAX and to our customers.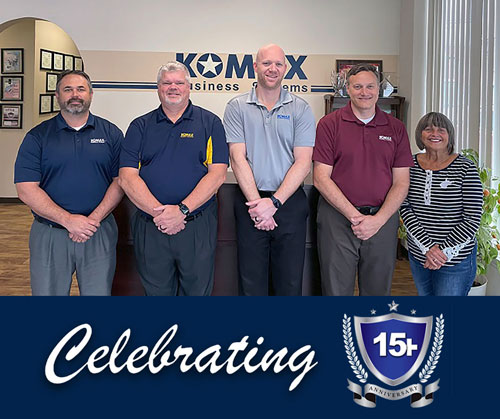 Sales
KOMAX Business Systems opened our doors in June 1999. Over the last 23 years, our sales team has been the heart of the company. We would like to recognize those members of the team that have been with KOMAX for 15 years or more. We are so fortunate to have such little turnover in the sales department allowing us to build a solid foundation and trusting relationships with our customers. The integrity of KOMAX and the sales team drives us to always do what's in your best interest. We look forward to the next decade of growth. (Left to right: KC Davis, David Humphrey, Brett Maxwell, Shaun Shamblin and Patti McCune)
---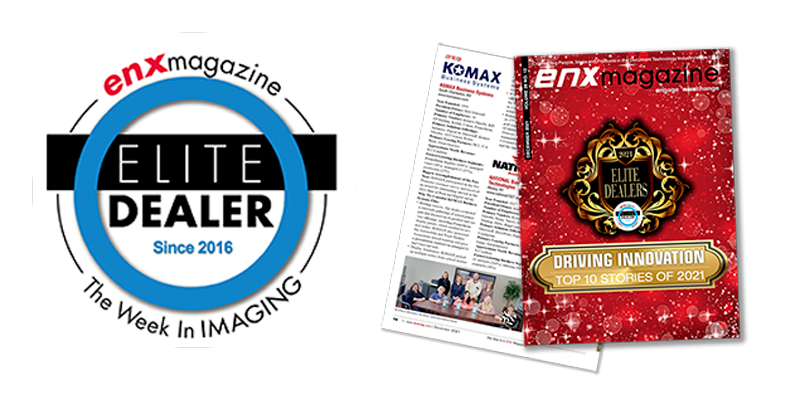 KOMAX Business Systems has been recognized as an Elite Dealer from ENX Magazine*. With over 100 dealers across the country being recognized each year, KOMAX Business Systems is the ONLY West Virginia dealer to ever receive this award. KOMAX continues to strive to make our employees, customers and community our priority.
Thank you to all who help us make this award possible.  "We are so proud of this award because it isn't just about the numbers. It's criteria focuses on outstanding customer service, charitable contributions, innovative marketing programs, growth initiatives, progressive workplace cultures and adaptability to an ever-changing market."- Bob Maxwell, Owner
*ENX Magazine is a monthly publication dedicated to the document technology industry since1994.
---

Konica Minolta Business Solutions U.S.A., Inc. (Konica Minolta) recently announced it has received first place in Brand Loyalty in the Brand Keys Customer Loyalty Engagement Index® (CLEI) for the fifteenth consecutive year. The win confirms that Konica Minolta best meets, or exceeds, customer expectations among all brands competing in the category of MFP Copiers. KOMAX strives to be an extension of that and exceed customer expectations each and every day.